To find the best mortgage, you need to compare multiple lenders. Consider different options like your bank, credit union, and recommendations from trusted professionals. Ask about rates, loan terms, down payment requirements, mortgage insurance, closing cost and fees of all kinds, and compare these details on every offer.
Reach out to multiple lenders to see how much you could save. It pays to compare your options.
Whether you are buying, refinancing, or looking for a secondary loan, we encouraged everyone to choose the mortgage lender who is most suitable for their wants, needs, and specific situation. We have included the steps to take to find the best lender to for you.
Step 1: Know Your Credit and Debt
Long before you start looking for a mortgage lender and applying for a loan, you will need a fiscal checkup. This includes taking a look at your credit and debt. You will need to pull your credit reports and scores. Some tips to improve your credit include paying bills on time, every time; keeping credit card and revolving loan balances to 30% or less of available credit; and only applying for credit when it is necessary.
In addition to good credit, lenders need to see that you can handle your existing debt along with a new mortgage payment by evaluating your debt-to-income (DTI) ratio. The DTI is calculated by adding up all your monthly credit card, student loan, and other loan payments and dividing it by your gross monthly income to get a percentage.
As an example, if your monthly debt payments equals $750 and the proposed mortgage payment is $1,250 = $2,000 in debt payments divided by total gross income of $5,000 = 40% DTI.
We collaborate with Empowering and Strengthening Ohio's People [ESOP], a HUD-approved housing and financial counseling agency, to provide a variety of free workshops and counseling services that span the lifecycle of homeownership – from saving up to downsizing. You can learn more on our Free Homeownership Workshops page.
Step 2: Determine Your Budget
An important part of finding the right mortgage is knowing how much house you can afford. Lenders preapprove you based on your credit and DTI, which is only based on your gross income, outstanding loans and revolving debt. It is important to understand that they don't consider other monthly bills, such as utilities, gas, day care, insurance, groceries, or repairs and maintenance.
A lender could qualify you for a loan that would max out your budget and leave no room for unexpected expenses. To get a more accurate idea of what you can afford, you will need to create a budget using your monthly net income and all expenses. Do not take out the things you enjoy doing, such as eating out at restaurants, coffee shops, traveling, or golfing. Having an accurate budget will help you calculate how much you should spend on a mortgage payment.
Step 3: Know Mortgage Options
Understanding a few key facts about some of the different types of mortgage available, will help you work with a lender to find the best product to meet your needs. Some upfront research can also help you secure the best deal. Below is a page from our Home Buyer's Guide.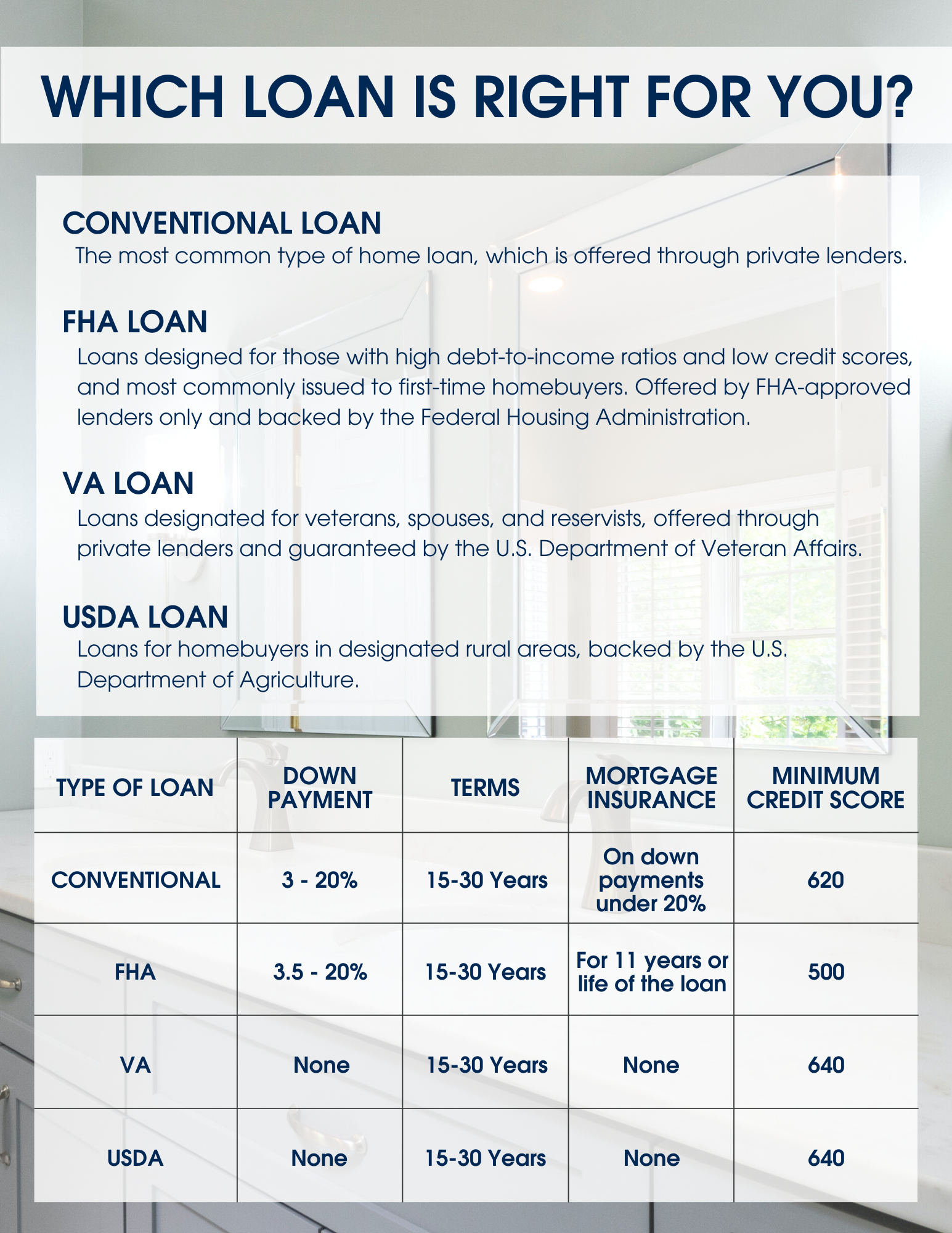 Step 4: Compare Loan Estimates
It is recommended to compare a minimum of three to four loan estimates to determine which loan best meets your needs.
The loan estimate details the terms of the loan; the projected monthly mortgage payment, including taxes, insurance and other assessments; an estimate of the cash you will need at the time of closing. We have created a handy worksheet to help you interview and compare mortgage lenders and their products, you can download our loan comparison worksheets here.
Some of Our Trusted Lenders
Below are some of the trusted companies that we have been working with for years. Their experience , extensive knowledge, and impeccable customer service have provide satisfactory results for our customers over the years. This is quite possibly the largest purchase you will make and it is imperative that you do your research and select the best members of your team.